Tomorrow my hubby and I are going to be first time godparents to my sisters beautiful baby girl Elektra.
And because she's our little Twinkle Lily model, I just had to make her something beautiful.
Front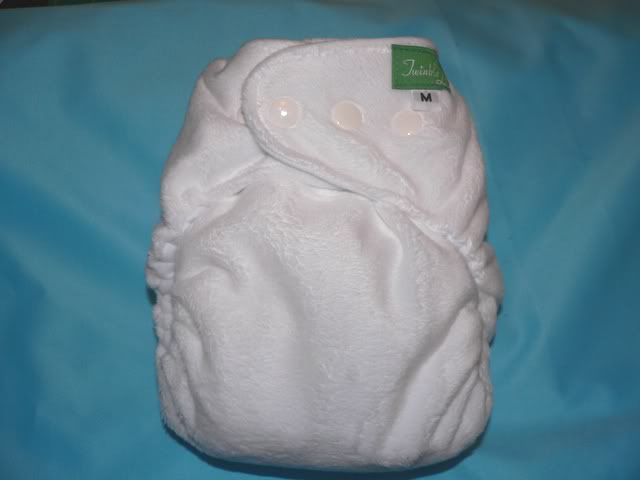 Back
A beautiful design of a butterfly incorporating swarovski crystals and fringe embroidery on a luscious smooth white minky canvas.
A little bit about Twinkle Lily Superdays Modern Cloth nappies
;
All Twinkle Lily Superdays modern cloth nappies are made with a layer of waterproofing with polyurethane laminate, either hidden if using minky as outers or as the plain outer of the cloth nappy. Then a contoured bamboo fleece booster is attached to the inner of the nappy (hidden inside nappy shell), usually suedecloth or something comparable which gives the nappy stay dry properties, wicking all moisture away from your babies bottom.
The major absorbing part of the nappy is in the snap in booster which is made simply by a trifold and an hourglass booster attached to it. With the booster folded, all up it gives you a generous 10 layers of absorbancy whilst still looking trim.
Superdays Modern Cloth Nappies come in 3 different sizes; Small, Medium and Large
Sizing as follows;
Small:
Weight: 5-8 kgs
Waist: 21-53
Rise: 37
Medium:
Weight: 7-13 kgs
Waist: 27-59
Rise: 41
Large:
Weight: 10-16 kgs
Waist: 32-65
Rise: 45